Sing Another Song, Boys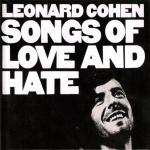 Sing Another Song, Boys
Testo
[Parlato:]
Let's sing another song, boys, this one has grown old and bitter.

Ah his fingernails, I see they're broken,
his ships they're all on fire.
The moneylender's lovely little daughter
ah, she's eaten, she's eaten with desire.
She spies him through the glasses
from the pawnshops of her wicked father.
She hails him with a microphone
that some poor singer, just like me, had to leave her.
She tempts him with a clarinet,
she waves a Nazi dagger.

She finds him lying in a heap;
she wants to be his woman.
He says, "Yes, I might go to sleep
but kindly leave, leave the future,
leave it open."
He stands where it is steep,
oh I guess he thinks that he's the very first one,
his hand upon his leather belt now
like it was the wheel of some big ocean liner.
And she will learn to touch herself so well
as all the sails burn down like paper.
And he has lit the chain
of his famous cigarillo.

Ah, they'll never, they'll never ever reach the moon,
at least not the one that we're after;
it's floating broken on the open sea, look out there, my friends,
and it carries no survivors.
But lets leave these lovers wondering
why they cannot have each other,
and let's sing another song, boys,
this one has grown old and bitter.
Suoniamo un'Altra Canzone, Ragazzi
Traduzione
[Parlato:]
Cantiamo un'altra canzone, ragazzi, questa è diventata vecchia e amara.

Ah, le sue unghie, vedo che sono rotte,
le sue navi sono tutte in fiamme.
la dolce figliola dell'usuraio
ah, è divorata, è divorata con desiderio.
Lo spia attraverso i vetri
dal banco dei pegni del suo padre crudele.
Lo accoglie con un microfono
che qualche povero cantante, come me, le ha lasciato.
Lo tenta von un clarinetto,
agita uno stiletto nazista.

Lo trova mentre giace in un mucchio;
vuole essere la sua donna.
Lui dice, "Sì, potrei andare a dormire
ma cortesemente lascia, lascia il futuro,
lascialo aperto."
Resta in piedi anche dov'è ripido,
oh, immagino che lui pensi di essere il primo in assoluto,
la sua mano appoggiata alla sua cintura di pelle
come se fosse il timone di un grande traslatantico.
Lei imparerà a toccarsi così bene
mentre tutte le vele bruciano come carta.
Lui ha acceso la catena
del suo famoso cigarillo.

Ah, non raggiungeranno mai la luna,
per lo meno non quella che stanno inseguendo;
sta galleggiando spezzata nel mare aperto, guardate fuori, amici miei,
e non porta sopravvissuti.
Ma lasciamo questi amanti domandarsi
perchè non possono aversi l'un l'altro,
e cantiamo un'altra canzone, ragazzi,
questa qui è diventata vecchia e amara.