The Ballad of Frankie Lee and Judas Priest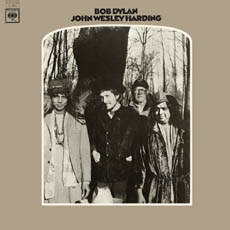 The Ballad of Frankie Lee and Judas Priest, testo
Well, Frankie Lee and Judas Priest,
They were the best of friends.
So when Frankie Lee needed money one day,
Judas quickly pulled out a roll of tens
And placed them on a footstool
Just above the plotted plain,
Sayin', "Take your pick, Frankie Boy,
My loss will be your gain."

Well, Frankie Lee, he sat right down
And put his fingers to his chin,
But with the cold eyes of Judas on him,
His head began to spin.
"Would ya please not stare at me like that," he said,
"It's just my foolish pride,
But sometimes a man must be alone
And this is no place to hide."

Well, Judas, he just winked and said,
"All right, I'll leave you here,
But you'd better hurry up and choose
Which of those bills you want,
Before they all disappear."
"I'm gonna start my pickin' right now,
Just tell me where you'll be."

Judas pointed down the road
And said, "Eternity!"
"Eternity?" said Frankie Lee,
With a voice as cold as ice.
"That's right," said Judas Priest, "Eternity,
Though you might call it 'Paradise.'"

"I don't call it anything,"
Said Frankie Lee with a smile.
"All right," said Judas Priest,
"I'll see you after a while."

Well, Frankie Lee, he sat back down,
Feelin' low and mean,
When just then a passing stranger
Burst upon the scene,
Saying, "Are you Frankie Lee, the gambler,
Whose father is deceased?
Well, if you are,
There's a fellow callin' you down the road
And they say his name is Priest."

"Oh, yes, he is my friend,"
Said Frankie Lee in fright,
"I do recall him very well,
In fact, he just left my sight."
"Yes, that's the one," said the stranger,
As quiet as a mouse,
"Well, my message is, he's down the road,
Stranded in a house."

Well, Frankie Lee, he panicked,
He dropped ev'rything and ran
Until he came up to the spot
Where Judas Priest did stand.
"What kind of house is this," he said,
"Where I have come to roam?"
"It's not a house," said Judas Priest,
"It's not a house... it's a home."

Well, Frankie Lee, he trembled,
He soon lost all control
Over ev'rything which he had made
While the mission bells did toll.
He just stood there staring
At that big house as bright as any sun,
With four and twenty windows
And a woman's face in ev'ry one.

Well, up the stairs ran Frankie Lee
With a soulful, bounding leap,
And, foaming at the mouth,
He began to make his midnight creep.
For sixteen nights and days he raved,
But on the seventeenth he burst
Into the arms of Judas Priest,
Which is where he died of thirst.

No one tried to say a thing
When they took him out in jest,
Except, of course, the little neighbor boy
Who carried him to rest.
And he just walked along, alone,
With his guilt so well concealed,
And muttered underneath his breath,
"Nothing is revealed."

Well, the moral of the story,
The moral of this song,
Is simply that one should never be
Where one does not belong.
So when you see your neighbor carryin' somethin',
Help him with his load,
And don't go mistaking Paradise
For that home across the road.
La Ballata di Frankie Lee e Judas Priest, traduzione
Frankie Lee e Judas Priest
erano ottimi amici
così quando Frankie Lee ebbe bisogno di denaro un giorno
Judas subito estrasse un rotolo di biglietti da dieci
e li poggiò su uno sgabello
proprio sopra i campi appena divisi
dicendo: "Prendi quello che ti serve, caro Frankie
la mia perdita sarà il tuo guadagno"

Frankie Lee si sedette subito
e si portò le dita al mento
ma con i freddi occhi di Judas addosso
la sua testa cominciò a girare
"Potresti evitare di fissarmi in quel modo" disse
"E' solo il mio stupido orgoglio
ma a volte un uomo deve essere lasciato solo
e qui non c'è posto dove nascondersi"

Judas fece l'occhiolino e disse:
"D'accordo ti lascerò qui
ma faresti meglio a decidere in fretta
quali di queste banconote vuoi
prima che spariscano tutte"
"Inizierò a sceglierle subito proprio ora
dimmi solo dove sarai"

Judas puntò il dito lungo la strada
e disse "Eternità"
"Eternità?" chiese Frankie Lee
con una voce fredda come il ghiaccio
"Esatto" disse Judas "Eternità,
anche se potresti chiamarla Paradiso"

"Io non la chiamo in alcun modo"
disse Frankie con un sorriso
"D'accordo" rispose Judas Priest
"arrivederci a tra poco"

Bè, Frankie Lee si sedette di nuovo,
si sentiva indegno e crudele
quando uno straniero di passaggio
apparve sulla scena
chiese: "Sei tu Frankie Lee il giocatore
il cui padre è deceduto?
Bè, se sei tu
c'è un tizio che ti chiama lungo la strada
e dicono che il suo nome è Priest"

"Oh sì, è un mio amico"
disse Frankie Lee impaurito
"Me lo ricordo bene
l'ho visto poco fa"
"Sì, è lui" disse lo straniero
tranquillo come un topo
"Il mio messaggio è che ti aspetta
lungo la strada abbandonato in una casa"

Bè Frankie Lee fu preso dal panico
lasciò ogni cosa e corse
finchè giunso nel posto
dove stava Judas Priest
"Che razza di edificio è questo" disse
"dove sono venuto a cercarti?"
"Non è un edificio" disse Judas Priest
"Non è un edificio, è una casa"

Frankie Lee cominciò a tremare
e ben presto perse ogni controllo
su tutto quello che aveva fatto
mentre le campane della missione suonavano
stava in piedi a guardare
verso il grande edificio luminoso come il sole
con ventiquattro finestre
e il viso di una donna in ognuna di esse

Bè Frankie Lee corse su per le scale
con passo svelto e turbato
e, con la bocca schiumante,
cominciò la sua arrampicata di mezzanotte
per sedici notti e sedici giorni infuriò
ma il diciassettesimo cadde esausto
tra le braccia di Judas Priest
dove poi morì di sete

Nessuno osò dire una parola
quando lo portarono via come per scherzo
tranne naturalmente il bimbo del vicino
che lo accompagnò a riposare
e lui lo seguiva, solo,
con la sua colpa ben nascosta
borbottando sottovoce
"Niente è rivelato"

Bè la morale di questa storia
la morale di questa canzone
è semplicemente che uno non dovrebbe mai stare
dove non si sente a casa
Perciò quando vedi il tuo vicino caricare qualcosa
aiutalo a portare il suo fardello
e non confondere più il Paradiso
con quella casa aldilà della strada
The Ballad of Frankie Lee and Judas Priest, note e significato
La band heavy-metal inglese dei Judas Priest prende il nome proprio da The Ballad of Frankie Lee and Judas Priest. Il nome proprio può essere infatti tradotto come "Sacerdote di Giuda".