The Sound of Silence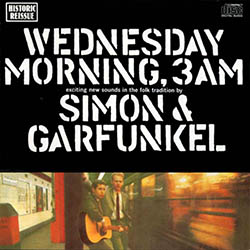 The Sound of Silence
Testo
Hello darkness my old friend
I've come to talk with you again
because a vision softly creeping
left its seeds while I was slepping
and the vision
that was planted in my brain
still remains
within the sound of silence.

In restless dreams I walked alone
narrow street of cobblestone
B'neath the halo of a street lamp
I turned my collar to the cold and damp
when my eyes were stabbed
by the flash of a neon light
that split the night
and touched the sound of silence.

And in the naked light I saw
ten thousand people, maybe more.
People talking without speaking
people haring without listening
people writing songs
that voices never share
and no one dare
disturb the sound of silence.

"Fools" said I "You don't know
silent like a cancer grows.
Hear my words that I might teach you
take my arms that I might reach you""
but my words
like silent rain drops fell
and echoed
in the wells of silence.

And the people bowed and prey
to the neon god they made.
And the sign flashed out its warning
in the words that it was forming
and the sign said "The words of the prophets
are written on the subway walls
and tenement halls"
and whisper'd in the sound of silence
Il Suono del Silenzio
Traduzione
Ciao oscurità mia vecchia amica
sono venuto di nuovo a parlare con te
perchè una visione si è insediata dolcemente,
ha lasciato i suoi semi mentre stavo dormendo
e la visione
che è fissa nella mia mente
rimane ancora
nel suono del silenzio.

In sogni irrequieti percorrevo da solo
strette strade acciottolate,
nell'alone di un lampione stradale,
alzai il bavero al freddo è all'umidità
quando i miei occhi furono colpiti
dal lampo di una luce al neon
che separò la notte
e toccò il suono del silenzio.

E nella nuda luce vidi
diecimila persone, forse più.
Persone che parlano senza dir niente
persone che sentono senza ascoltare
persone che scrivono canzoni
che nessuna voce canterà
e nessuno oserà
disturbare il suono del silenzio

"Sciocchi" dissi io "Voi non sapete:
il silenzio cresce come un cancro.
Ascoltate le mie parole perchè io possa insegnarvi
afferate le mie braccia perchè io possa abbracciarvi."
Ma le mie parole
caddero come silenziose gocce di pioggia
ad echeggiarono
nelle sorgenti del silenzio

E le persone si prostrarono e pregarono
il dio al neon che avevano creato.
E il segno gridò irosamente il suo avvertimento
nelle parole che stava pronunciando
e il segno disse "Le parole dei profeti sono scritte
sui muri della metropolitana
e sui palazzi"
E sussurrò nel suono del silenzio.
The Sound of Silence
note e significato
The Sound of Silence è stata scritta da Paul Simon nel 1962, quando l'autore aveva 21 anni. Una prima stesura avvenne nel bagno di casa Simon, dove Paul era solito rifugiarsi con la sua chitarra. A tal proposito, racconta in un'intervista:
La cosa che più mi attraeva nel suonare la chitarra era di poter sedermi per i fatti miei e suonare e sognare. [...] ero solito andare in bagno [a suonare] perché lì c'erano le piastrelle che facevano una specie di effetto eco. E aprivo il rubinetto così che l'acqua scorresse (adoro quel suono, mi conforta molto) e mi mettevo a suonare. Al buio.
Per pubblicizzare Wednesday Morning 3AM il duo suonò The Sound of Silence in diversi locali, raccogliendo però lo scherno di molti ascoltatori. In seguito alle scarse vendite del disco, Paul Simon ritornò in Inghilterra dove registrò nuovamente una versione solista della canzone, con il titolo The Sounds of Silence, per il disco The Paul Simon Songbook (1965).
Il successo arriva grazie alla perseveranza del produttore Tom Wilson: informato che diverse radio della East Coast avevano iniziato a trasmettere The Sound of Silence, decise di realizzare un remix della canzone e pubblicarla come singolo il 13 Settembre 1965.
Paul Simon venne a conoscenza della sua rinata carriera di cantautore mentre suonava in un piccolo bar della Danimarca. Scorrendo Billboard, una rivista specializzata in critica musicale, rimase sconvolto nel leggere che The Sound of Silence era tra i cento singoli più apprezzati. Garfunkel lo chiamò qualche giorno dopo per informarlo del successo.
Si racconta che Paul Simon rimase orripilato dopo aver ascoltato la versione remixata, mentre Garfunkel, più pragmatico, apprezzò il fatto che avesse contribuito al loro successo musicale.
The Sound of Silence
tablatura e accordi
Am G
Hello darkness, my old friend,
Am
I've come to talk with you again,
F C
Because a vision softly creeping,
F C
Left it's seeds while I was sleeping,
F C
And the vision that was planted in my brain
Am
Still remains
G Am
Within the sound of silence.

G
In restless dreams I walked alone
Am
Narrow streets of cobblestone,
F C
'neath the halo of a street lamp,
F C
I turned my collar to the cold and damp
F C
When my eyes were stabbed by the flash of a neon light
Am
That split the night
G Am
And touched the sound of silence.

G
And in the naked light I saw
Am
Ten thousand people, maybe more.
F C
People talking without speaking,
F C
People hearing without listening,
F C
People writing songs that voices never share
Am
And no one dare
G Am
Disturb the sound of silence.

G
Fools said i, you do not know
Am
Silence like a cancer grows.
F C
Hear my words that I might teach you,
F C
Take my arms that I might reach you.
F C
But my words like silent raindrops fell,

And echoed
G Am
In the wells of silence

G
And the people bowed and prayed
Am
To the neon God they made.
F C
And the sign flashed out it's warning,
F C
In the words that it was forming.
F
And the sign said, the words of the prophets
C
Are written on the subway walls
Am
And tenement halls.
G Am
And whisper'd in the sounds of silence.