Shine on you Crazy Diamond (part IV, V, VI)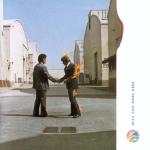 Shine on you Crazy Diamond (part IV, V, VI)
Testo
Nobody knows where you are, how near or how far.
Shine on you crazy diamond.
Pile on many more layers and I'll be joining you there.
Shine on you crazy diamond.

And we'll bask in the shadow of yesterday's triumph,
and sail on the steel breeze.
Come on you boy child, you winner and loser,
come on you miner for truth and delusion, and shine!
Brilla Diamante Pazzo (parte IV, V, VI)
Traduzione
Nessuno sa dove sei, quanto vicino o quanto lontano
Brilla diamante pazzo
Ammassa più livelli e mi unirò a te
Brilla diamante pazzo

E ci riscalderemo all'ombra del trionfo passato
e navigheremo nella brezza tagliente
Vieni ragazzo, vincitore e perdente
Vieni fonte di verità e delusione, e brilla!
Shine on you Crazy Diamond (part IV, V, VI)
note e significato