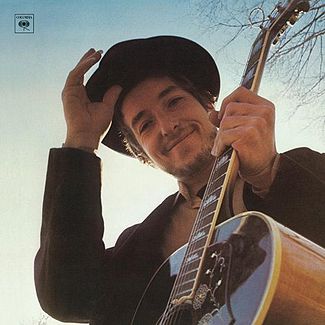 Quasi un'evoluzione naturale del precedente John Wesley Harding, Nashville Skyline si addentra ulteriormente nella musica country, con testi semplici e accompagnamenti essenziali. Dylan sembra quasi voler isolarsi dal clima politico americano, polarizzato dall'assassinio di Martin Luther King Jr. e dalla Guerra in Vietnam. [Continua a leggere]
Nashville Skyline, lista canzoni
Pubblicizzato grazie al supporto di Johnny Cash, che ospiterà Dylan nella sua trasmissione The Johnny Cash Show e duetterà con lui in Girl from the North Country, risulterà uno degli album più venduti del rocker americano.
Dylan, che ha temporaneamente smesso di fumare, sorprende in particolare per la sua nuova voce, che abbandona il tono canzonatorio degli esordi e raggiunge tonalità più classiche.
Nashville Skyline significa "L'orizzonte di Nashville" e si riferisce a Nashville, Tennessee, la città dove il disco è stato registrato. Nella cultura americana, Nashville è spesso associata alla musica country, soprattutto per il Grand Ole Opry, un concerto settimanale che si svolge dal 1925.
Hanno suonato:
Bob Dylan
:
chitarra, armonica, tastiere, voce

Norman Blake
:
chitarra, Dobro

Kenneth A. Buttrey
:
batteria

Johnny Cash
:
Fred Carter, Jr.
:
chitarra

Charlie Daniels
:
basso, chitarra

Pete Drake
:
chitarra

Marshall Grant
:
W. S. Holland
:
Charlie McCoy
:
chitarra, armonica

Bob Wilson
:
organo, piano

Bob Wootton
: