Talkin' New York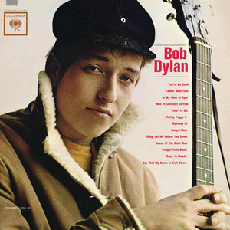 Talkin' New York, testo
Ramblin' outa the wild West
Leavin' the towns I love the best
Thought I'd seen some ups and downs
'Til I come into New York town
People goin' down to the ground
Buildings goin' up to the sky

Wintertime in New York town
The wind blowin' snow around
Walk around with nowhere to go
Somebody could freeze right to the bone
I froze right to the bone
New York Times said it was the coldest winter
in seventeen years
I didn't feel so cold then

I swung onto my old guitar
Grabbed hold of a subway car
And after a rocking, reeling,
rolling ride
I landed up on the downtown side
Greenwich Village

I walked down there and ended up
In one of them coffee-houses on the block
Got on the stage to sing and play
Man there said, "Come back some other day
You sound like a hillbilly
We want folk singers here"

Well, I got a harmonica job, begun to play
Blowin' my lungs out for a dollar a day
I blowed inside out and upside down
The man there said he loved m' sound
He was ravin' about how he loved m' sound
Dollar a day's worth

And after weeks and weeks of hangin' around
I finally got a job in New York town
In a bigger place, bigger money too
Even joined the union and paid m' dues

Now, a very great man once said
That some people rob you with a fountain pen
It didn't take too long to find out
Just what he was talkin' about
A lot of people don't have much food on their table
But they got a lot of forks 'n' knives
And they gotta cut somethin'

So one mornin' when the sun was warm
I rambled out of New York town
Pulled my cap down over my eyes
And headed out for the western skies
So long, New York
Howdy, East Orange
Talkin' New York, traduzione
Me ne sono andato dal selvaggio West
abbandonando le città che più amavo
pensavo di aver vissuto alti e bassi
finché non giunsi nella città di New York
Persone che scompaiono nella terra
edifici che si inerpicano nel cielo

L'inverno a New York
il vento che spazza la neve
Cammino senza un posto dove andare
potrei congelarmi fino all'osso
congelarmi fino all'osso
il New York Times dice che è l'inverno
più freddo degli ultimi diciassette anni
non sentivo così freddo allora

Misi al collo la mia vecchia chitarra
saltai su una carrozza della metro
e dopo una corsa che cullava, sbatteva
e rotolava come il rock'n'roll
Giunsi in centro città,
Greenwich Village

Camminai per un po' e giunsi
in uno di quei cafe del quartiere
salì sul palco per suonare e cantare
Un uomo disse, "Torna un altro giorno
Suoni come un montanaro
vogliamo cantanti folk qui"

Beh, cominciai a suonare l'armonica,
consumandomi i polmoni per un dollaro al giorno
soffiando e inspirando
l'uomo là dentro disse di apprezzare la mia musica
farneticava di quanto gli piacesse il mio sound
che valeva un dollaro al giorno

E dopo settimane e settimane di tentativi
sono finalmente riuscito ad avere un lavoro a New York
In un posto pià grande e con più soldi pure
addirittura sono entrato nel sindacato e pagato la mia quota

Ora, un grande uomo una volta disse
che alcune persone di derubano con una penna stilografica
e non ci ho messo molto a capire
di cosa stesse parlando
molta gente non ha cibo in tavola
ma hanno un sacco di forchette e coltelli
e devono pure tagliare qualcosa

Così un mattino di sole
me ne sono andato da New York
mi sono coperto gli occhi col berretto
e mi sono diretto verso i cieli dell'Ovest
a presto, New York
Come va, East Orange?
Talkin' New York, note e significato
Talkin' New York rientra nella categoria dei Talkin' Blues, uno stile musicale inventato da Chris Bouchillon (1893 – 1968) e usato, tra gli altri, da Woodie Guthrie nella sua Talkin' Columbia, probabile ispirazione del titolo.
Nel testo, Dylan cita anche un'altra canzone di Woodie Guthrie, Pretty Boy Floyd, ispirata al rapinatore di banche Charles Arthur Floyd (1904 – 1934):
Yes, as through this world I've wandered
I've seen lots of funny men
Some will rob you with a six-gun,
And some with a fountain pen.
Sì, avendo vagato a lungo per il mondo
ho visto un sacco di gente curiosa
alcuni ti rapinano con una sei colpi,
altri con una penna stilografica.