Black Rider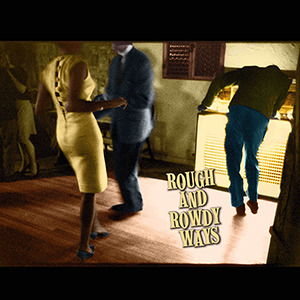 Black Rider, testo
Black Rider, Black Rider you been livin' too hard
You been up all night havin' to stay on your guard
The path that you're walkin', is too narrow to walk
Every step of the way another stumblin' block
The road that you're on, same road that you know
But it's not the same as it was a minute ago

Black Rider, Black Rider you've seen it all
You've seen the great world and you've seen the small
You fell into the fire and you're eating the flame
Better seal up your lips if you want to stay in the game
Be reasonable Mister, be honest, be fair
Let all of your earthly thoughts be a prayer

Black Rider, Black Rider all dressed in black
I'm walking away and you try to make me look back
My heart is at rest, I'd like to keep it that way
I don't want to fight, at least not today
Go home to your wife, stop visiting mine
One of these days I'll forget to be kind

Black Rider, Black Rider tell me when, tell me how
If there ever was a time then let it be now
Let me go through, open the door
My soul is distressed, my mind is at war
Don't hug me, don't flatter me, don't turn on the charm
I'll take out a sword and have to hack off your arm

Black Rider, Black Rider hold it right there
The size of your cock
will get you nowhere
I'll suffer in silence, I'll not make a sound
Maybe I'll take the high moral ground
Some enchanted evening I'll sing you a song
Black Rider Black Rider
you've been on the job too long
Cavaliere Nero, traduzione
Cavaliere nero, cavaliere nero, la tua vita è stata dura
Sei stato sveglio tutta la notte, a fare la guardia
Il sentiero che stai percorrendo è troppo stretto
Ad ogni passo del cammino trovi un altro ostacolo
La strada che stai percorrendo, la stessa strada che conosci
Ma non è più la stessa di un minuto fa

Cavaliere nero, cavaliere nero, hai visto tutto
Hai visto il grande mondo e il piccolo
Sei caduto nel fuoco e stai mangiando la fiamma
Meglio tacere se vuoi restare al gioco
Sii ragionevole, signore, sii onesto, sii giusto
Che tutti i tuoi pensieri terreni siano una preghiera

Cavaliere nero, cavaliere nero, tutto vestito di nero
me ne sto andando mentre cerchi di farmi voltare indietro
Il mio cuore è in pace, vorrei che rimanesse così
Non voglio combattere, almeno non oggi
Torna a casa da tua moglie, smettila di visitare la mia
Uno di questi giorni mi dimenticherò di comportarmi bene

Cavaliere nero, cavaliere nero, dimmi quando, dimmi come
Se c'è mai stato un tempo, fai che sia ora
Fammi passare, apri la porta
La mia anima è angosciata, la mia mente è in guerra
Non abbracciarmi, non lusingarmi, non ammaliarmi
Prenderò una spada e ti taglierò il braccio

Cavaliere nero, cavaliere nero, tienilo lì
La lunghezza del tuo cazzo
non ti porterà da nessuna parte
Soffrirò in silenzio, non farò rumore
Forse sceglierò una morale più elevata
In qualche sera incantata ti canterò una canzone
Cavaliere nero, cavaliere nero,
sei stato in servizio troppo a lungo
Black Rider, note e significato
Black Rider si presenta come un dialogo tra l'artista e un'oscura presenza ("Black Rider"), probabilmene la morte.
Il verso "The size of your cock will get you nowhere" sembra essere una parafrasi di una verso delle Satire del poeta romano Decimo Giunio Giovenale (50 d. C. - 127 d. C.), scritte per sfogare "l'indignazione verso il degrado della società in cui si trova a vivere".
"Some enchanted evening I'll sing you a song" si riferisce alla canzone Some Enchanted Evening di Rodgers and Hammerstein, che Dylan aveva registrato nell'album Shadows in the Night (2015).