Chimes of Freedom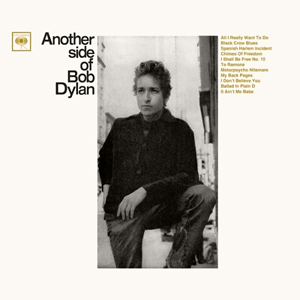 Chimes of Freedom, testo
Far between sundown's finish
an' midnight's broken toll
We ducked inside the doorway,
thunder crashing
As majestic bells of bolts
struck shadows in the sounds
Seeming to be
the chimes of freedom flashing

Flashing for the warriors
whose strength is not to fight
Flashing for the refugees
on the unarmed road of flight
An' for each an' ev'ry underdog
soldier in the night
An' we gazed upon
the chimes of freedom flashing

In the city's melted furnace,
unexpectedly we watched
With faces hidden
while the walls were tightening
As the echo of the wedding bells
before the blowin' rain
Dissolved
into the bells of the lightning

Tolling for the rebel,
tolling for the rake
Tolling for the luckless,
the abandoned an' forsaked
Tolling for the outcast,
burnin' constantly at stake
An' we gazed upon
the chimes of freedom flashing

Through the mad mystic hammering
of the wild ripping hail
The sky cracked its poems
in naked wonder
That the clinging of the church bells
blew far into the breeze
Leaving only bells of lightning
and its thunder

Striking for the gentle,
striking for the kind
Striking for the guardians
and protectors of the mind
An' the unpawned painter behind
beyond his rightful time
An' we gazed upon
the chimes of freedom flashing

Through the wild cathedral evening
the rain unraveled tales
For the disrobed faceless
forms of no position
Tolling for the tongues
with no place to bring their thoughts
All down
in taken-for-granted situations

Tolling for the deaf an' blind,
tolling for the mute
Tolling for the mistreated, mateless mother,
the mistitled prostitute
For the misdemeanor outlaw,
chased an' cheated by pursuit
An' we gazed upon
the chimes of freedom flashing

Even though a cloud's white curtain
in a far-off corner flashed
An' the hypnotic splattered mist
was slowly lifting
Electric light still struck like arrows,
fired but for the ones
Condemned to drift
or else be kept from drifting

Tolling for the searching ones,
on their speechless, seeking trail
For the lonesome-hearted lovers
with too personal a tale
An' for each unharmful, gentle soul
misplaced inside a jail
An' we gazed upon
the chimes of freedom flashing

Starry-eyed an' laughing
as I recall when we were caught
Trapped by no track of hours
for they hanged suspended
As we listened one last time
an' we watched with one last look
Spellbound an' swallowed
'til the tolling ended

Tolling for the aching ones
whose wounds cannot be nursed
For the countless confused, accused, misused,
strung-out ones an' worse
An' for every hung-up person
in the whole wide universe
An' we gazed upon
the chimes of freedom flashing
Le Campane della Libertà, traduzione
Lontano oltre la fine del tramonto
e lo spezzato rintocco di mezzanotte,
ci riparammo sotto le arcate
mentre il tuono esplodeva
Maestose campane di lampi
colpivano le ombre col loro suono
Sembravano
lampeggianti rintocchi di libertà

Lampeggiavano per i guerrieri,
la cui forza è quella di non combattere
Lampeggiavano per i rifugiati
sulla disarmante via della fuga
E per ogni sfortunato
soldato della notte
E osservammo
le lampeggianti campane di libertà

Nella sciolta fornace della città,
inaspettatamente osservammo
con volti nascosti
mentre i muri si facevano più spessi
come l'eco delle campane nuziali
prima della pioggia sferzante
dissolversi
in campane di fulmini

Che suonavano per il ribelle,
suonavano per il miserabile
suonavano per i meno fortunati,
gli abbandonati e i dimenticati
suonavano per l'escluso,
messo costantemente al rogo
E osservammo
le lampeggianti campane di libertà

Attraverso il folle e mistico martellare
dell'incessante grandine picchiettante
Il cielo faceva esplodere i suoi poemi
in nuda meraviglia
Che il tintinnare delle campane della chiesa
soffiava lontano nella brezza
Lasciando solo campane di fulmini
e il loro tuono

Che colpiva per i cuori nobili,
colpiva per il mite
colpiva per i guardiani
e i protettori della mente
e dietro al pittore indomito
prima che venisse la sua ora
E osservammo
le lampeggianti campane di libertà

Nella sera della cattedrale primordiale,
la pioggia svelava racconti
Per le nude forme
senza volto o posizione
Rintoccava per le lingue
senza un posto dove condurre i propri pensieri
Tutte costrette
in situazioni scontate

Rintoccava per il sordo e il cieco,
suonava per il muto
Per la bistrattata madre senza marito,
la prostituta ingiuriata
Per il delinquente da poco,
inseguito e ingannato apposta
E osservammo
le lampeggianti campane di libertà

Sebbene il bianco velo di una nuvola
riflettesse bagliori in un angolo lontano
E l'ipnotica nebbia
si stesse lentamente alzando
Lampi elettrici colpivano ancora come dardi,
lanciati per coloro che sono
condannati a vagare
oppure impossibilitati a farlo

Suonavano per coloro che cercano
nei loro silenziosi sentieri di scoperta
Per gli amanti dal cuore solitario
con una storia troppo personale
E per ogni anima nobile e innocua
ingiustamente imprigionata
E osservammo
le lampeggianti campane di libertà

Con gli occhi pieni di stelle e ridendo,
ricordo quando restammo bloccati
intrappolati dall'assenza delle ore
rimaste sospese
Mentre ascoltavamo un'ultima volta
e lanciavamo un ultimo sguardo
incantati e col fiato sospeso
finchè il suono terminò

Rintoccavano per i malati,
le cui ferite non possono essere curate
Per l'innumerevole schiera dei confusi, accusati, maltrattati,
disillusi o peggio
E per ogni uomo ossessionato
nell'intero universo
E osservammo
le lampeggianti campane di libertà
Chimes of Trinity, originale
In a city grand and gay where the mighty throng hold sway
Stands a church whose spire points towards the sky.
And down the belfry towr oft the chimes have toll'd the hour
Many saddened hearts were charmed while passing by.
Many millionaires and ladies grand and noble man of state
With outcasts from ev'ry land and monarchs grand and great.
All have whiled the hours away way down on old Broadway
As they listened to the chimes of Trinity

Tolling for the outcast, tolling for the gay,
Tolling for the millionaire and friends long pass'd away.
But my heart is light and gay
As I stroll down old Broadway
And I listen to the chimes of Trinity
Le Campane della Trinità, originale tradotto
In una città grande e felice dove la folla continua a sciamare
c'è una chiesa le cui spire si puntano al cielo
E nel campanile le campane hanno spesso scandito l'ora
Molti cuori tristi si risollevarono passandgli vicino
Molti milionari e grandi dame e nobili uomini di stato
e derelitti di ogni paese e monarchi grandi e prestigiosi
tutti hanno fatto passare il tempo lungo Broadway
ascoltando le campane della Trinità

Che suonavano per i derelitti, per chi è contento,
suonavano per i milionari e gli amici dipartiti da tanto tempo.
ma il mio cuore è leggero e colmo di gioia
mentre cammino lungo Broadway
ascoltando le campane della Trinità.
Chimes of Freedom, note e significato
Chimes of Freedom è stata scritta nel 1964, in seguito a un viaggio che Dylan fece in compagnia del musicista Paul Clayton, del giornalista Pete Karman e dell'organizzatore Vicotr Maimudes. E' probabile che la stesura del testo sia stata completata in Canada e che sia stata influenzata dall'assassinio del President John F. Kennedy, al quale sarebbe riferito il verso sui "cuori nobili".
Sia per il testo che per la musica, Dylan si ispira alla canzone The Chimes of Trinity, scritta da Michael J. Fitzpatrick nel 1895, della quale venne a conoscenza grazie al musicista Dave van Ronk:
Bob mi aveva sentito strimpellare uno dei pezzi preferiti di mia nonna, 'The Chimes of Trinity', una ballata sentimentale sulla Chiesa della Trinità [di New York]. Me la fece suonare un po' di volte finché non capì come faceva. E poi la trasformò in 'The Chimes of Freedom'
Dylan modificò leggermente la melodia e riscrisse quasi completamente il testo, si può quindi discutere se si tratti di plagio o meno. In ogni caso il riferimento è innegabile.
Chimes of Freedoms deve la sua popolarità a una cover dei Byrds, realizzata accorciando il brano a tre strofe e introducendo un sound più moderno. La canzone venne registrata per l'album d'esordio della band, Mr. Tambourine Man (1965), in seguito a un violento alterco tra il cantante David Crosby, che voleva lasciare lo studio, e il produttore Jim Dickson, che voleva terminare le registrazioni dell'album.
Secondo il racconto dei presenti, Dickson, una volta atterrato e immobilizzato Crosby, lo minacciò dicendo: "L'unico modo che hai di uscire da quella porta è sul mio cadavere... Starai qui finché non avrai finito la parte cantata". Crosby scoppiò in lacrime ma, una volta ripresosi, incise la sua traccia senza problemi. Dickson considera la violenza subita il vero motivo della performance "toccante e angelica" di Crosby.
Chimes of Freedom, tablatura e accordi
G D G C
Far between sundown's finish, and midnight's broken toll
G C D G
We ducked inside the doorway, thunder crashin'
D G C
As majestic bells of bolts struck shadows in the sounds
G D [riff] G
Seeming to be the chimes of freedom flashin'
D G
Flashing for the warriors whose strength is not to fight
C G Am D
Flashing for the refugees in the unarmed road of flight
G D G C
And for each and every underdog soldier in the night
G C D G GC D G
And we gazed upon the chimes of freedom flashin'

D G C
In the city's melted furnace, unexpectedly we watched
G D [riff] G D
With faces hidden as the walls were tightening
G D G C
As the echo of the wedding bells before the blowin' rain
G D [riff] G
Dissolved into the bells of the lighting
D G
Tolling for the rebel, tolling for the rake
C G Am D
Tolling for the luckless, the abandoned and forsaked
G D G C
Tolling for the outcast, burnin' constantly at stake
G C D G
G
And we gazed upon the chimes of freedom flashin'

Through the mad mystic hammering of the wild ripping hail
The sky cracked its poems in naked wonder
That the clinging of the church bells blew far into the breeze
Leaving only bells of lightning and its thunder
Striking for the gentle, striking for the kind
Striking for the guardians and protectors of the mind
An' the unpawned painter behind his rightful time
An' we gazed upon the chimes of freedom flashing.

In the wild cathedral evening the rain unraveled tales
For the disrobed faceless forms of no position
Tolling for the tongues with no place to bring their thoughts
All down in taken-for-granted situations
Tolling for the deaf an' blind, tolling for the mute
For the mistreated, mateless mother, the mistitled prostitute
For the misdemeanor outlaw, chased an' cheated by pursuit
An' we gazed upon the chimes of freedom flashing.

Even though a cloud's white curtain in a far-off corner flashed
An' the hypnotic splattered mist was slowly lifting
Electric light still struck like arrows, fired but for the ones
Condemned to drift or else be kept from drifting
Tolling for the searching ones, on their speechless, seeking trail
For the lonesome-hearted lovers with too personal a tale
An' for each unharmful, gentle soul misplaced inside a jail
An' we gazed upon the chimes of freedom flashing.

Starry-eyed an' laughing as I recall when we were caught
Trapped by no track of hours for they hanged suspended
As we listened one last time an' we watched with one last look
Spellbound an' swallowed 'til the tolling ended
Tolling for the aching ones whose wounds cannot be nursed
For the countless confused, accused, misused, strung-out ones an' worse
An' for every hung-up person in the whole wide universe
An' we gazed upon the chimes of freedom flashing.